Since 2012 tyres used on roads in Europe have been subject to EU tyre labelling regulations. Tyre labelling allows end users to make informed choices about environmental impact and economical efficiency of road transport in Europe.
As of 1st May 2021 a further update of tyre labelling regulations has taken effect.
The regulation (EU) 2020/740 requires that the new tyre label information is available to the consumer at the point of sale. As a market leader in Europe, STARCO conforms to these new regulations which means that STARCO will provide new tyre labels for all tyres and assemblies supplied for both OEM or Aftermarket. The regulation applies to every product manufactured from 1st May 2021. Tyres manufactured before this date may still be delivered with the old label.
What information can you get from the tyre label?
Rolling resistance
Wet grip
Noise performance
Ice grip (if applicable)
Use in severe snow conditions (if applicable)
Manufacturer and tyre information
A QR code to reference product database (EPREL)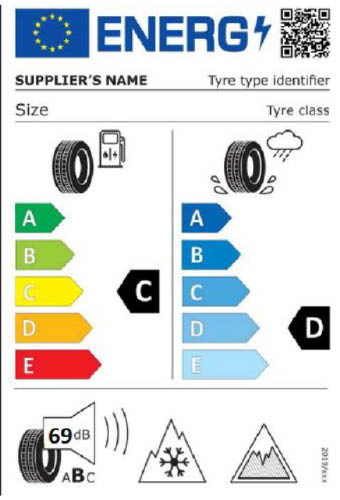 Rolling resistance and wet grip
Rolling resistance and wet grip is now expressed in 5 classes from A (the most efficient) to E (the least efficient). Noise labelling is represented by decibel level and A,B,C ratings. New pictograms highlight whether tires can be used in severe ice and snow conditions. Supplier name, size, tyre class and type identifier (internal code) are now also required on labels. The QR code refers to tires registered in product database.
The regulation affects the following tyre categories: C1 (Passenger car) , C2 (Light commercial) and C3 (Commercial truck and bus).